book a private class
Learn the Ancient Practice of Qigong
Use the centuries-old energy systems of Qigong and Tai Chi to calm the mind, boost energy (Qi), fight stress, relax, improve health and heal the body. For many, these arts are forms of "moving meditation".

Qigong is the art and science of refining and cultivating internal energy.

Ken Cohen, Qigong and Tai Chi Grandmaster


Taught in English or Cantonese
The Qigong class will be conducted in either English or Chinese
Personalized 1-on-1 teaching
The instructor will be able to focus on your personalized needs during the class
Learn the art of this ancient practice
The practice of Qigong has thousands of years of history
Meet the instructor
Lawrence Tze
Lawrence Tse is a Hong-Kong-born Tai Chi & Qi Gong Master and the founder of Tse Healing Qigong Centre. He began his energy journey, learning these practices about 25 years ago and has been practising them ever since. After many years of working with the powerful energy created by both Tai Chi and Qigong, he began to teach both locals and expats in Hong Kong through his practice. He has now been doing this for over 15 years.

Lawrence has been offering his practice to a diverse number of groups and bodies in Hong Kong over the years, including Cathay Pacific Airways, Christian Action Center, The Helena May, the YWCA, and many other centers around the territory dedicated to health, wellbeing, and healing. He has often been invited to give talks and demonstrations to different Centres and Organizations on a range of topics related to his Qi Gong work; this includes healing, energy, and breathing techniques for health & stress release.

Classes available in English
Book a private class
with Qigong Master Lawrence
Master Lawrence has more than 30 years of experience in teaching Qi Gong.
QI GONG
Literally "Qi work" or "life energy cultivation." The art and science to cultivate and balance Qi, deeply rooted in Chinese Medicine, philosophy, and martial arts. It is a system of coordinated body postures, moves, breathing, and meditation techniques to improve health, to clam the mind, and to condition for martial arts.
The Taijiquan & Qi Gong Dictionary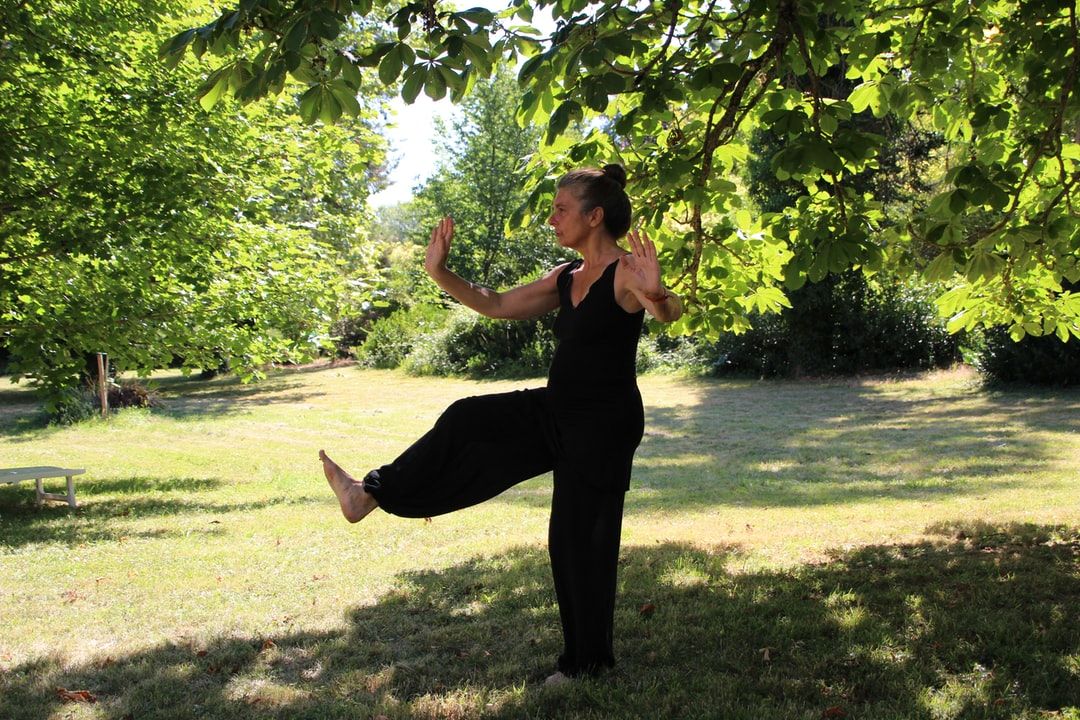 Bone Density
Resistance training and other weight-bearing exercises are known to increase bone formation and have been recommended for post-menopausal women for that purpose
Cardiopulmonary
Favorable cardiovascular and/or pulmonary outcomes
Physical Function
Increased physical function was observed among participants, mostly older adults, after practising either Qi Gong or Tai Chi
Better balance
Results suggest that there was a trend to maintain balance using Qigong in a population of patients with muscular dystrophy
Quality of Life
With a few exceptions, the preponderance of studies indicate that Qigong and Tai Chi hold great potential for improving QOL in both healthy and chronically ill patients
Self-efficacy
The perceived ability to handle stress or novel experiences and exercise self-efficacy were enhanced relative to inactive control groups as a function of participation in Qigong and Tai Chi.
Immune Function and Inflammation
Immune function and inflammation are closely related, and are often assessed using a variety of blood markers, particularly certain cytokines and C-reactive protein. Interleukin-6, an important marker of inflammation, was found to be significantly modulated in response to practicing Qigong, compared to a no-exercise control group.
Mental Health
The study indicates that there may be changes in biomarkers associated with anxiety and/or depression in response to the interventions, this category shows promise for examining potential mechanisms of action for the change in psychological state.
Frequently Asked Questions
2. What is included in your Masterclass?
The course purchase allows full access to all the chapter videos and a workbook.
On top of the hour-long videos taught by our instructors, Wellness Journey provides add-on materials to facilitate your learning processes, such as comprehensive workbooks and bonus clips offering practical tutorials.
3. What topics are covered in the workbook?
Unique workbook content is available for some courses. For example, the following sections are covered in the workbook of "Traditional Chinese Medicine Body Constitution":
List of food with different properties
Essential oil and properties
The characteristics and recommendations for nine body constitutions
Food and recipe recommendations
Foot soak recipes
4. What is special about our Masterclass?
Easily get bored of reading? Our Masterclass is for you. Specialising in video production, Wellness Journey is a unique wellness platform exploring the cross-section between Eastern & Western wellness modalities. Our Masterclasses aim to introduce different health topics to our audience with intriguing visuals and graphics that help to explain abstract concepts. Health is of vital importance for everyone, we hope to raise the awareness of wellbeing, share insights of the experts from all walks of life, and build up a community of wellness where people can support each other.
DISCLAIMER
Wellness Journey Masterclass is for informational purposes only. It is not, nor is it intended to be a substitute for professional medical advice, diagnosis, or treatment and should never be relied upon for specific medical advice. Always consult a medical health care professional prior. The use of information in our masterclass or material's linked is at the user's own risk. User's should not disregard or delay in obtaining medical advice for any medical condition they may have, and should always seek the assistance of their health care professionals for any such conditions.
Join Us
Sign up to get exclusive access to private classes, discounts & newsletters.
By entering the email address, you agree with our terms and conditions.
Created with